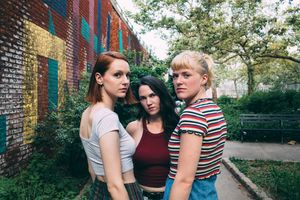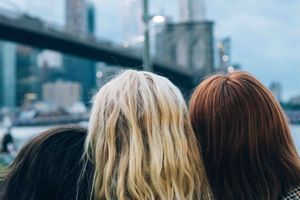 "

The beauty their music has automatically is something that I strive constantly to achieve. And I've been lucky to learn some of the secrets of this effortlessness from them." - Elliot Moss
"

Stark, raw, and powerfully moving, an understated yet heartbreaking work of cinematic beauty."
"

If this is what a loose single sounds like, I can imagine how a cohesive body of work from the trio would shake pop music. "
"

Intimate and cinematic"
— Wild Honey Pie
"

A ruthlessly independent female trio from Brooklyn, ALMA fuse indie rock percussion, synthpop splendor and neo-soul layering techniques. Their latest single, "Mornight," reflects the sonic richness of New York's DIY scene anchored by a chunky electric bass and vocals equal parts Amelia Meath, equal parts Staveley-Taylor sisters. "
— Atwood Magazine
ALMA
NYC based trio bringing a quirky, cinematic, DIY approach to pop.
Often compared to artists like Sylvan Esso, Tune Yards, The Staves, and Dirty Projectors, their music is immersive, chock full of vocal harmony and homegrown production. ALMA worked with industry giants Elliot Moss (mixing) and Ted Jensen at Sterling Sound (mastering) to bring their genre-bending freshman album, MOSAIC, to light.
ALMA is comprised of Alba S. Torremocha (vocals, strings, bass, drums, guitar, uke) Lillie R. McDonough (vocals, piano, glock, violin, hammer dulcimer), and Melissa K. Carter (vocals, guitar). The trio formed officially in 2019 out of a shared delight in harmonizing and experimentation with quirky instrumentals and old-fangled synthesizers. They discovered a certain alchemy in the combination of sensibilities as film composers and audio engineers that has made for a genre bending offering to the wide world of indie pop. Elements of Folk, Rock, Grunge, Pop and even movie soundtracks are all at home in their songs. 
ALMA leaned into the creative constraints of studio shutdowns through 2020 and went rogue with production at home that has become part of their signature sound. Armed with a mobile microphone and a DIY sensibility, they use airplanes as cymbals, parental phone chats as texture, slices of last year's Fourth of July Party, and even samples of Melissa's roomie splashing in the tub to produce their music with the sounds of the world they inhabit outside of the recording studio. Their unique approach to production is grounded by ethereal vocal arrangements that form the core of their signature sound. 
Their debut LP Mosaic is a personal letter to NYC. Each song delivers the story of a moment in time in the city they call home. Mosaic invites you to sit beside them on the subway, walk with them through Astoria park, and ride the Wonder Wheel at night as you feel into what it means to be a New Yorker. They have been releasing singles from the album since September of 2020 that have been written up in various publications including Glasse Factory, Sounds Good Blog, Envertent, Le Future Wave, We All Want Someone to Shout for etc. 
ALMA was named a NYFA Fellow for their genre-pushing work in 2019, and later was an Awesome Foundation Grant recipient in 2020. They are currently in the process of producing a staged, theatrical musical of their freshman album in partnership with Savannah Repertory Theater. 
In the Press
"

Imagine a mix of Tune-Yards, Sylvan Esso, Ava Luna and Dirty Projectors into one creative blend of joy."